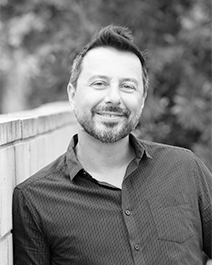 NIKOS KALAITZIDIS
Visual Effects Supervisor
Nikos Kalaitzidis is a multi-award winning visual effects supervisor with more than 20 years of experience in film and commercial visual effects. 
He started his career after studying photography with a unique artistic style for lighting and candid captures of subjects. 
In 1995, Nikos joined Digital Domain where his traditional and technical experience was leveraged to work on one of his first feature film projects, James Cameron's "Titanic," as part of the team that oversaw lighting and effects development for the ocean.  
With an eye for detail and a knack for solving the most challenging creative and technical obstacles, Nikos' leadership and expertise translate onto screens effortlessly. 
Most recently, Nikos completed work as Digital Domain's visual effects supervisor on New Line Cinema's feature film "Black Adam," where he oversaw complex visual effects sequences comprising more than 400 vfx shots. Prior to that, Nikos was VFX supervisor on the Academy and BAFTA-nominated Shawn Levy film, "Free Guy" where he led a team of world-class creative and technical talent to realize Mr. Levy's vision; a mixture of complex real-world and gameplay visuals.
Having worked on over 35 feature films, Nikos' credits include: "Spider-Man: Homecoming," "Shazam!," "Ant-Man and the Wasp," "Tron: Legacy," "X-Men Days of Future Past," "The Fate of the Furious," "The Curious Case of Benjamin Button" and "X-Men: First Class." His work is often recognized by his peers and the industry, including the internationally-acclaimed feature film "Shadow," which received several Golden Horse awards, including Best Visual Effects. On the commercial side, Nikos received a VES award for Outstanding VFX for his work with Bacardi.  
Nikos is a shining star known for his tireless pursuit of perfection as a visual effects supervisor. His depth of knowledge brings an efficient and effective digital workflow to every project. Nikos skillfully assembles teams of artists and crew, inspiring everyone to focus on the highest quality, while still bringing the project in on budget and schedule.
Nikos is a member of the Academy of Motion Picture Arts and Sciences and is one of Digital Domain's longstanding visual effects leaders. Talented in crafting the unimaginable, Nikos' dedication to his craft continues to raise the bar in realizing directors' visions on the big screen.