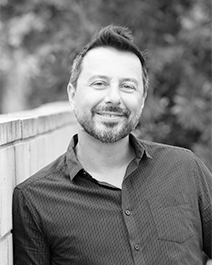 NIKOS KALAITZIDIS
Visual Effects Supervisor
With almost 35 years of experience in film, advertising, and special venue projects, Nikos Kalaitzidis, brings an unwavering commitment to successfully achieving the director's vision on each project. Through effective leadership, prolific creative direction, and the ability to incorporate innovative technology and techniques into his projects, the multi-award winning VFX Supervisor effortlessly translates the final imagery onto the screen.
Most recently, Nikos completed work as Digital Domain's visual effects supervisor on the season finale of LucasFilm's and Disney's "The Mandalorian" Season 3. Before that, Nikos was the VFX supervisor on the Warner Bros Pictures feature film "Black Adam," where he oversaw complex visual effects sequences comprising more than 500 vfx shots. Nikos was Academy and BAFTA-nominated for his work as VFX supervisor on the Shawn Levy film, "Free Guy," where he led a team of world-class creative and technical talent to realize Mr. Levy's vision, a mixture of complex real-world and gameplay visuals.
Over the course of his career, Nikos has supervised and contributed to more than 30 feature films, including "Shazam!" and "Ant-Man" and the Wasp," where he brewed up never-before-seen storms in the quantum realm with director Peyton Reed and VFX Supervisor Stéphane Ceretti. Working alongside Ava DuVernay for "A Wrinkle in Time," Nikos created the epic tesseract transitions between worlds and provided expertise on several other complex projects, including "X-Men: Days of Future Past," "TRON: Legacy," "The Fate of the Furious" and "Free State of Jones," the Civil War drama starring Matthew McConaughey and directed by Gary Ross.
His peers and the industry often recognize Nikos' work through work like the Academy Award-nominated "The Avengers" and the internationally acclaimed feature film "Shadow," which received several Golden Horse Awards, including Best Visual Effects. On the commercial side, Nikos received a VES Award for Outstanding VFX in a commercial with Bacardi.
A true Digital Domain alum, Nikos joined the studio in 1995, where his traditional and photographic experience was leveraged to work on one of his first feature film projects, James Cameron's "Titanic," as part of the team that oversaw lighting and effects development for the ocean.
Nikos is a member of the Academy of Motion Picture Arts and Sciences and is one of Digital Domain's longstanding visual effects leaders, known for tackling the most complex and technically challenging projects. Talented in crafting the unimaginable, Nikos' dedication to his craft continues to raise the bar.