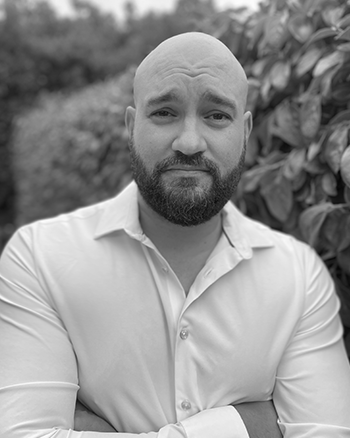 MATT MCCLURG
Head of Visualization
With an exceptional ability to collaborate with top filmmakers and contribute substantially to the visuals of storytelling, Matt McClurg has risen quickly during his nearly 15-year career in the industry. Beginning his artist career at The Third Floor, Matt was soon recruited by 20th Century Fox, where he quickly became a previs supervisor working on a number of high profile features. In 2014, he connected with VFX company Pixomondo to build and run the previs department there until 2019 when he had the opportunity to join Digital Domain, where now heads the studio's Visualization department.
As Head of Visualization, Matt collaborates with our partner studios to ensure that their vision for visual effects translates into the final product and onto the big screen. While streamlining and incorporating new pipelines and technologies that take full advantage of the VFX studio's proprietary toolsets, the department is actively embracing Digital Domain's machine learning software, the game engine space, and several AI-driven creations.
In his career, Matt has contributed to the previsualization on multiple feature film and television projects as supervisor. Matt worked as the previs supervisor on Sony's record-breaking film, "Spider-Man: No Way Home" for director Jon Watts. He's also worked on other projects such as Sony's "Morbius" and 20th Century Studios "Free Guy." In his role as previs sup, Matt also had the opportunity to work directly with Steven Spielberg on the opening sequence of his acclaimed film "West Side Story" and with showrunner Seth MacFarlane on multiple seasons of "The Orville."
Along with Spielberg and MacFarlane, Matt has worked with several more directors and filmmakers, including Peter Segal, Shawn Levy, Patty Jenkins, Roland Emmerich, Robert Stromberg, and Joss Whedon. His additional credits include major feature films and episodics such as "Star Trek: Discovery," "Dark Tower," "Venom," "Ghost in The Shell," "Avengers: Age of Ultron," "Independence Day: Resurgence," "Wonder Woman" and "Maleficent." and HBO's "Last of Us". Matt is currently working on several undisclosed Marvel projects currently in development.
With a keen creative eye and demonstrated ability to help filmmakers realize their project's distinct look, Matt is one of several creative visionaries in the global Digital Domain family.