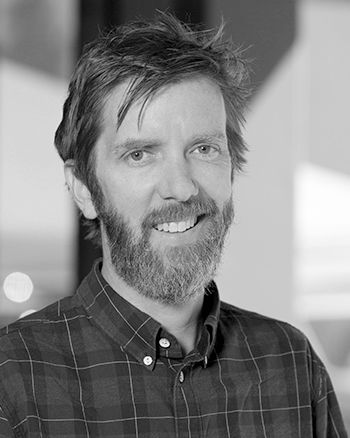 SCOTT MEADOWS
Head of Visualization
A leading industry expert in visualization, Scott Meadows heads Digital Domain's global visualization efforts, which include previs, postvis, pitch vis, motion capture and virtual production for feature films, episodics, commercials, games, and new media.
Recognized by major studios as a top visualization expert, Scott is often credited with establishing the specialization more than two decades ago. An outstanding collaborative partner to filmmakers, Scott constantly anticipates needs and adjusts workflows to meet client preferences. Knowing that iteration is vital for creatives, Scott and his team have designed a pipeline that combines traditional vis methods with cutting-edge virtual production workflows, all of which seamlessly connect to the studio's visual effects department.
Working alongside director Steven Spielberg and production designer Adam Stockhausen, Scott was an early adopter of virtual production as a creative tool in pre-production to help inform and design the VFX work for "Ready Player One," including the epic car chase through the fantastical world of New York City. What Scott learned on 'RPO,' he later enhanced and applied in the development of a more sophisticated virtual pipeline used recently on the virtual production work for the upcoming Columbia picture "Morbius". On "Morbius," these tools were used throughout the production, even during post, to aid the filmmakers in making informed creative decisions.
 While at Digital Domain, Scott has contributed his visualization expertise on more than 15 feature films, including "TRON: Legacy," "Ender's Game," "Pixels," "Maleficent," "Sonic the Hedgehog" and Disney's "Beauty and the Beast." Scott prevised several large sequences of Marvel Studios' "Black Panther" in tandem with Director Ryan Coogler and VFX Supervisor Geoffrey Baumann, including the monumental final battle. Some of Scott's latest projects include 20th Century Studios "Free Guy," the opening shot of the upcoming Steven Spielberg film "West Side Story," and Columbia Pictures "Morbius". He is currently working on several feature films to be released this year and into 2022, including the untitled Spider-Man sequel, and two major feature films from Marvel Studios.
Scott's talent, coupled with his comprehensive and extensive knowledge of all aspects of visualization, has made him a unique and highly sought after artist in the industry. This expertise along with an integrated team and VFX pipeline brings unique adaptability to the Digital Domain visualization process, allowing creatives to leverage a truly robust team with the toolset needed to achieve their creative vision.